The Imperial Theatre is a 600 seat live Performance venue with an unobstructed view from all seats. There are 472 Orchestra level seats and 128 Balcony seats. In addition there is street level wheelchair access from the Theatre foyer to an accessibility suite designed for patrons with mobility issues. With an engineered contour to the walls, the auditorium is acoustically excellent. The theatre is fully licensed with bars on both the main floor and balcony levels.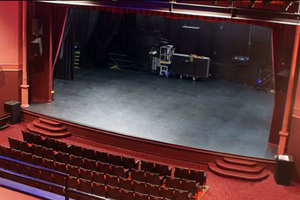 STAGE DETAILS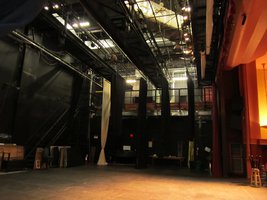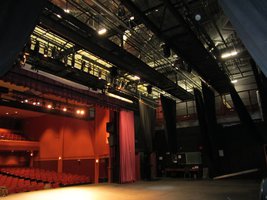 Imperial Theatre Technical Specs Sheet
• Total area of the stage is 74' wide and 42' 9" deep.
• The stage is 36' wide at the proscenium with an additional 7' 6" of apron in front of that.
• The measurement from the back wall to the most extended point of the apron is 42' 9" and 41' 8" at the shortest point of the apron. There is 19' of wing space stage right and left.
• The height of the proscenium is 18'.
• A movable Yamaha Grand Piano is located on stage courtesy of the Sarnia Concert Association.
• The Stage Door is located in our loading bay at the rear of the Theatre.- vehicle access is via a oneway lane off Christina Street which leads to the rear of the Theatre.
• There is also access to back stage from the front lobby down a passageway leading to the stage right wing. A door and stairway accessible from the audience also leads to the stage right wing.
• There are two portable steps located stage right and left to allow access to the stage from the audience.
• There are three sets of stationary legs.
• A traveler on a pulley system is located at mid stage.
• A traveler/ star cloth is located upstage that can be pulled across the stage manually.    
 
LIGHTING AND AUDIO EQUIPMENT
LIGHTING EQUIPMENT
The theatre has four easily accessible catwalks, one in front of house and three others on decks above the stage. We have 88 dimmer channels including drops and 6 floor lines. The system is run by an ETC Ion 1000 Lighting Board.
The lighting inventory includes the following instruments
4 ETC Parnels
14 Chauvet DJ Intimidator Spot 375Z IRC
18 Microh iP65 LED Bars
12 Chauvet Colorado Tri-tour LED Pars
8 Microh LED Max Zoom Quads
2 ETC Source Four Zoom 25°–50°
4 ETC Source Four Zoom 15°–30°
8 ETC Source Four Jr. Zoom 25°–50°
12 ETC Source Four: 26°
12 ETC Source Four: 19°
4 ETC Source Four Pars
2 ETC Source Four: 50° barrels
All connectors for lights are 20A twistlock and all lighting positions are accessible from the catwalks.  Each catwalk has four AC quad boxes.  Each quad box has a switch SL to turn on power.

AUDIO EQUIPMENT
FOH:
The house sound system is an EV full range system (Subs are NOT on a aux) there is a 40 Channel Split snake that runs from FOH to Stage Left. There is enough length to run the snake to upstage centre with a 50 foot monitor whip. (There are no Return Lines from Stage to FOH)
Monitors:
The Theatre has 8 EV 12" Passive wedges, we are pre wired for 4 separate monitor mixes, but with additional amp rack we can do 8,
In the Booth
Behringer X32 Digital Audio Console
Miscellaneous Equipment
Clear Com system  
The Theatre has a SKYJACK SJ III 3219 hydraulic scissor lift that is available for use to authorised personnel. It has a platform height of up to 19' and a working height of up to 25'.
For any additional lighting or audio information please contact the Production Manager, Catherine Soulliere at csoulliere@imperialtheatre.net
MOVIE PROJECTION EQUIPMENT
The Theatre is equipped with a Panasonic PT-DW5100U digital projector that offers 5500 lumens of brightness and WXGA wide screen capability. The motorized screen is 24' wide and 14' high and is permanently mounted on one of the backstage catwalks. When not in use the screen retracts into a protective housing.
SCISSOR LIFT
The Theatre has a SKYJACK SJ III 3219 hydraulic scissor lift that is available for use to authorised personnel. It has a platform height of up to 19' and a working height of up to 25'.
BACK STAGE FACILITIES
Located beneath the Stage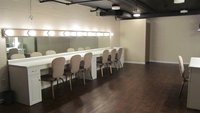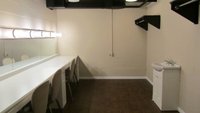 .
Three Dressing Rooms each with mirrors and incandescent lights providing ample light for make-up.
The large Dressing Room contains a toilet and a washbasin.
The other two Dressing Rooms each contain a washbasin.
There are two additional washrooms outside the Dressing Rooms.
There are no showers available onsite.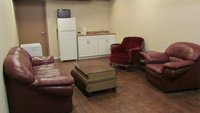 A Green Room for the talent to wait in - adjacent to the Dressing Rooms.
Stairway access from the Dressing Rooms area to both stage left and right.
An Orchestra Pit is accessible through the Green Room.