Welcome to the Imperial Theatre
It is a great privilege to gather and share stories on this beautiful territory, which has been the site of human activity - and therefore storytelling - for many thousands of years. We wish to honour the ancestral guardians of this land and its waterways : the Chippewa, Odawa, Potawatomi peoples, referred to collectively as the  Anishinaabeg. Today many indigenous peoples continue to call this land home and act as its stewards. This responsibility extends to all peoples, to share and care for this land for generations to come.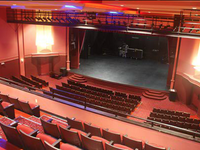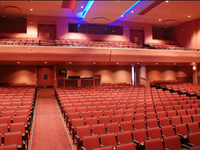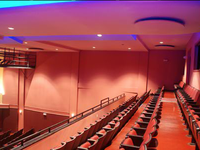 The Imperial Theatre is a facility that includes the 600 seat theatre, two fully licensed bars, the Nova Room - which is available for small functions, the Theatre Box Office, the R. W. Lawton Gallery, rehearsal halls, wardrobe, workshops and administrative offices.
Theatre Sarnia is the legal owner and operator of the Imperial Theatre with business and artistic direction under the guidance of a Board of Directors from within its membership. Theatre Sarnia is one of the oldest operating Community Theatre groups in Canada with it's roots in the Sarnia Drama Club formed in 1927.
The Imperial Theatre receives no operational funding from City, County or Provincial Governments. Ticket sales, Rentals, Donations and Sponsorships provide the major sources of operating revenue. The City of Sarnia provided an interest free mortgage during the rebuilding of the Theatre in 1996 and the required annual repayment was  made on time each year back to the City. The final payment was made on November 30, 2016 with a presentation of the cheque to the Mayor and members of City Council on stage at the Imperial Theatre. Theatre Sarnia is now mortgage free !.
Theatre Sarnia has the following distinct revenue streams from events held on stage at the Imperial Theatre:
Theatre Sarnia productions : Some five or six productions each season generate revenue from Ticket Sales and Box Office service charges.
Theatre Rentals :  Revenue is generated by renting the Theatre to Community Groups for local productions and to promoters representing Professional artists on tour . In addition, the theatre generates revenue from the Box Office service charges and Technical charges associated with these rentals.
Imperial Presents : These performances are financially backed by Theatre Sarnia and are intended to generate in-house revenue while providing Sarnia with a diverse mix of live entertainment on stage.
The Imperial Theatre has a minimal number of salary employees to run the daily operations of the theatre and is grateful for the many hours of volunteer activity without which the Theatre simply could not operate.
GRANTS : Theatre Sarnia, as owners of the Imperial Theatre, is particularly grateful to the following agencies for their continued support to provide a performing arts facility that is a credit to our community and their generosity.