THEATRE SARNIA PRESENTS WAR OF THE WORLDS : THE PANIC BROADCAST
All Ages
This is a reenactment of Orson Welles' and the Mercury Theatre On The Air famous radio adaptation of H.G. Wells' book "War of the Worlds". Instead of just reading the story, Welles and his writers converted it to a series of on-the-spot news reports. These news reports sounded so realistic, that many listeners thought that Martians really had invaded Earth and so panicked.
Joe Landry's play is set in 1948 and gives an introduction to the play, re-enacts the exact Orson Welles broadcast and then gives details of what happened in the days and weeks following.
Theatre Sarnia's play will be set on stage in radio station WBFR, complete with live adverts ("and now a word from our sponsor…"), radio station and advertiser jingles & much more, sung by Sisters Of Choice, a Petrolia trio.
Complete with vintage commercials and live sound effects, this radio-play-within-a-radio-play is a thrilling homage to the form's golden age and timely reminder of what fear can do to a society.
This is a Theatre Sarnia production - Directed by Paul Richardson
Single tickets Available June 30th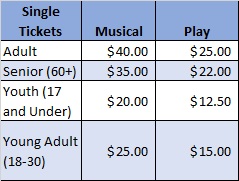 FOR THE COMFORT OF OUR PATRONS,THE IMPERIAL THEATRE IS OFFERING A MASKED PATRON PERFORMANCE OF THIS PRODUCTION DURING THE SATURDAY MATINEE